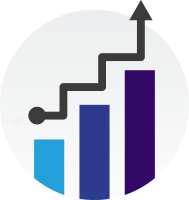 Vendor Analytics
The only solution that integrates to your VendorCentral account and uses your data to improve the health and success of your account. Let our team and technology expand sales, optimize operations, and provide unique insights into your Amazon business.
Vendor Analytics Features
Robust Analytics
Historical access to all data at a daily level of granularity
Product grouping by vendor, category, brand, or ad-hoc groups
PO and Invoice analysis, including direct fulfillment
AMS analytics, focused on true revenue and not gross Amazon sales
Take a Tour
See a preview of 5 of our most commonly-used features and how they'll help you improve sales through data-powered issue detection and analysis.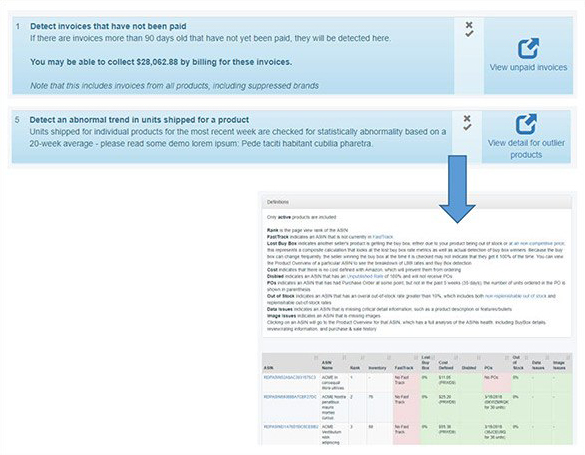 Data Issue Detection
Flexible framework for detecting account and sales issues
Anomaly detection for sales, POs, invoice payments, and more
Drill-down views of affected data for easy data analysis
Reviews and BuyBox monitoring
Direct fulfillment issue detection
Review and BuyBox Monitoring
Manage reviews across your entire catalog, get alerted when you should respond to one, and complete the response without having to leave Vendor Analytics. Also keep an eye on BuyBox with monitoring of your BuyBox presence for all of your ASINs and competitive analysis for 3rd parties selling your products.
All Vendor Analytics features
| Features: | |
| --- | --- |
| Create an unlimited number of logins for your staff, operations, or other users. | |
| Flexible, feature-based access controls to granularly decide who gets access to what | |
| Brand-code-based access control for giving users access to see data related to individual brand codes if you don't want them to see the entire account | |
| Historical access to all data at a daily level of granularity | |
| Product grouping by vendor, category, brand, or ad-hoc groups | |
| PO and Invoice analysis, including direct fulfillment | |
| AMS analytics, focused on true revenue and not gross Amazon sales | |
| Flexible framework for detecting account and sales issues | |
| Anomaly detection for sales, POs, invoice payments, and more | |
| Drill-down views of affected data for easy data analysis | |
| Reviews and BuyBox monitoring | |
| Direct fulfillment issue detection | |
| Shipped COGS history | |
| Sales price history | |
| Problem detection (OOS, FT, data issues, LBB, etc.) | |
| Product overview, including sales and review info | |
| PO, invoice, and chargebacks | |
| Sales margin analysis | |
| Custom data exports for use in accounting and ERP systems | |
| BuyBox indicators | |
Features for reps / account managers
| Features: | |
| --- | --- |
| Full white-labeling for clients | |
| Flexible access controls to share features, reports, or brand-specific data with clients and employees | |
| Tiered pricing that makes sense for agencies | |